2021 Prayerful Planner - "DATED" Tranquil Tan
2021 Prayerful Planner - "DATED" Tranquil Tan
IN STOCK - NOW SHIPPING!
**GIFT - When you order your 2021 Prayerful Planner you will receive the brand NEW Pathway to Peace 21 Day Challenge (digital download) + a full sheet of colorful planner stickers. Free shipping when you spend $100 or more!
Let me introduce you to "Tranquil Tan"! One of the newest editions to the 2021 dated Prayerful Planner collection. Use this simple, yet powerful Christian planner to document your daily journey and communion with Jesus. It's not only a day planner for keeping you organized and focused, it's a journal for documenting and tracing all of the ways that God is good. It's a place to keep schedules and to-do lists as well as daily prayers, gratitude, praise and more! 
"Tranquil Tan" is a soft and soothing cover style choice, it is surely to sell out quick. Once we sell out, we will not be restocking. Purchase your planner today!
Prayerful Planner® 2021 Daily Edition - DATED
January 2021 - December 2021
FEATURES
Approx. Overall Dimensions:  9.5″ wide x 10″ tall 
Page Dimensions:  7.5″ wide x 9.5″ tall 
Weight: approx. 2.5 lbs. 
Depth: 1.25" (not including binding) 
436 page daily planner includes:
NEW 

coil size for durability
NEW thicker tab pages for strength 160gsm (approx. 90lb weight)
NEW monthly dashboard page for planning
NEW added notes pages per month

NEW

 hourly times slots removed for flexibility

NEW 

water glasses removed
Nice thick 100gsm pages (approx. 70lb weight)
COLORFUL Inside pocket for storing extra papers and receipts
Prayer Requests Page 

Bible Reading Tracker

2021 Word/ Verse of the Year Worksheet

2021 Purpose Worksheet

2021 Vision Board 

2021 Goals Sheet 
2021 Reflection Page
12 Monthly Tabbed Pages - Gold foil with BOLD white lettering

Two-page monthly calendar with a Sunday start 
Notes Column -

 

(on each monthly calendar spread)

Daily planner sheets for each day of the year
Priorities section for your top three tasks of the day
Flexible planning section for scheduling

Scripture/ Verse on each daily page
Praise section for daily gratitude
Physical Health
Post it area for to-do lists, grocery lists and notes
Prayer Journal area to document prayer life
Durable hard cover
Protective gold color corners
Beautiful Gold Wire-O binding
Gold foil logo detail
SHIPPING
Each Prayerful Planner is carefully wrapped in bubble wrap and placed in a cardboard shipping box to limit damage in shipping. In-stock products typically ship within 2-4 business days. Our goal for customer service is to always under-promise and over deliver. Because of the variations that can occur in production time, we cannot quote any shipping times other than what is stated above.
Packages are typically shipped via USPS. As soon as your shipment is in the hands of a postal carrier, we are no longer in control. The USPS does not provide us with different information than they provide you with the tracking number.
RETURNS/CANCELLATIONS
No cancellations, returns or exchanges can be accepted. We are also not able to accept address changes after an order is placed. If by slight chance you receive a damaged planner please contact us directly for replacement at admin@prayerfulplanner.com
INTERNATIONAL ORDERS
Import duties, taxes and charges are NOT included in the item price or shipping fee. These charges are set by the destination country and become the buyer's responsibility. We are unable to mark a paid order as a "gift." Please check with your country's customs office to determine what the additional costs and delays could entail prior to purchasing. If you are looking for a way to save money on shipping, we recommend combining your order with a few friends!International shipments typically take 2-3 weeks to arrive from the date of shipment. Shipments are subject to customs clearance procedures, which can cause delays beyond original delivery estimates. Prayerful Planner cannot be held responsible for customs delays. Please note: Due to COVID-19, please expect delays in delivering and tracking of mail and parcels.For International orders, once the package leaves United States soil, shipping carriers do not have any control over delivery. If tracking states that your package has arrived in it's destination country, you must contact your local post office or carrier to work with them to have the packaged delivered.Should any problems arise, you are responsible for filing a claim with the carrier for damaged or lost shipments. We will quickly proceed once a resolution has been determined and we'll be happy to walk you through this process!
We are now able to offer even bigger discounts when you purchase in bulk. Be sure to use the discount savings code below if you are buying 10 or more! (all must ship to the same shipping address)

Code 10PLANNERS - 20% (Regular Size)
Code 10PETITES - 20% (Petite Size)
Code 25PLANNERS - 25% (Regular Size)
Code 25PETITES - 25% (Petite Size)
Code 50PLANNERS - 30% (Regular Size)
Code 50PETITES - 30% (Petite Size)
Customer Reviews
Write a Review
Ask a Question
11/14/2020
Brandy P.
United States
11/13/2020
Amber C.
United States
Converted CP user
I am so looking forward to using this planner next year. I have been an avid Christian Planner fan for the past few years, but this planner has blown me away. I love how much daily room I have and the extra space for prayer. This planner is beautiful!! I love the gold tabs which will make finding what I need so much easier. I know that this will be a great tool to help me continue to grow my relationship with Jesus and be able to track all of his goodness.
11/05/2020
Heather S.
United States
Beautiful Planner
I am someone who searches high and low for the perfect planner! Sometimes I even buy two for the year in case I don't end up liking the one I'm using. I received my planner quickly and the packaging alone was so pretty and made me feel like I was opening a gift to myself! Now for the inside, it's gorgeous and so functional. I haven't used it yet, but can't wait to start transitioning over at the end of December. I know without a doubt I won't need to buy a back up this year, because this one is so great! Lots of space, His word as a daily reminder, and a overall a lovely planner!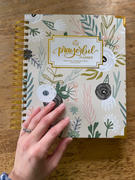 10/07/2020
Kelsey C.
United States
My favorite planner!
I'm a return customer and so glad I found Prayerful Planner. Last year I got the Weekly planner which is hard-backed bound but for 2021 I wanted to go back to spiral-bound. The daily doesn't have the space for reflection and sermon notes like the weekly does but there's extra note pages that I think will work just fine for that. I love spiral bound for easier holding, whether around the house or cuddled on the couch. I use the daily planner for daily to-dos, schedule, and prayers instead of having an extra journal for prayers and notes. Such a beautiful planner with plenty of space to continually point me back to God, His Word, and spending time with him. Everyday there's a Bible verse and sections for Priorities, Praise, Physical Health, Planning, lists, and prayers. I love the daily habit trackers for each month so I can color in when I've read, exercised, and journaled (you can put whichever habits/goals you want). Each month I intentionally search and choose a Scripture verse and faithful goals. Thank you Prayerful Planner!
10/06/2020
Lisa T.
United States
I can't wait for 2021!
This planner is beautiful and the layout brings the focus to God! 2021 can't get here soon enough!!
$14.00
Prayerful Planner Sticky Note - Set #2
$14.00
Prayerful Planner Highlighter Set
$14.00
Prayerful Planner Sticky Note - Set #1
$22.00
Prayerful Planner Pen Set - Classic
$24.00
Prayerful Journal - Blue
$24.00
Prayerful Journal - Gray
$10.00
DIGITAL Renewed Faith 21 Day Challenge
$35.00
"PETITE" Prayerful Planner - "UNDATED" Black Stripe
$35.00
"PETITE" Prayerful Planner - "UNDATED" Peony Praises
$42.00
"WEEKLY" Prayerful Planner - "UNDATED" Royal Blooms
$42.00
"WEEKLY" Prayerful Planner - "UNDATED" Farmhouse Plaid
$42.00
"WEEKLY" Prayerful Planner - "UNDATED" Classic Chintz
$42.00
"WEEKLY" Prayerful Planner - "UNDATED" Blush Knit
$42.00
2021 "PETITE" Prayerful Planner - "DATED" Delightful Dot
$42.00
2021 "WEEKLY" Prayerful Planner - "DATED" Blessed Blossom
$42.00
2021 "WEEKLY" Prayerful Planner - "DATED" Delightful Dot
$38.00
2021 "WEEKLY" Prayerful Planner - "DATED" Soft Cover Gray
$38.00
2021 "WEEKLY" Prayerful Planner - "DATED" Soft Cover Navy
$49.00
2021 Prayerful Planner - "DATED" Farmhouse Plaid
$49.00
2021 Prayerful Planner - "DATED" Rejoiceful Rose
$10.00
DIGITAL Pathway to Peace 21 Day Challenge
$28.00
Prayerful Journal - Emerald
$28.00
Prayerful Journal - Coral
$28.00
Prayerful Journal - Charcoal
$28.00
Prayerful Journal - Periwinkle