Prayerful Planner - "UNDATED" Tranquil Tan
Prayerful Planner - "UNDATED" Tranquil Tan
**GIFT - When you order a Prayerful Planner you will receive the Renewed Faith 21 Day Challenge (digital download) + 2 full sheets of colorful planner stickers. Free shipping when you spend $100 or more!  
"Tranquil Tan" is part of our newest undated collection! Use this simple, yet powerful tool to document your daily journey and communion with Jesus. It's not only a day planner for keeping you organized and focused, it's a journal for documenting and tracing all of the ways that God is good. It's a place to keep schedules and to-do lists as well as daily prayers, gratitude, praise and more! 
Prayerful Planner® Daily Edition - UNDATED
12 Full Months

FEATURES 
Approx. Overall Dimensions:  9″ wide x 9.75″ tall 
Page Dimensions:  7.5″ wide x 9.5″ tall 
Weight: approx. 2.5 lbs. 
Depth: 1.5" (includes binding) 
420 page daily planner includes:
Nice thick 100gsm pages (approximately 60 - 70lb weight)
COLORFUL Inside pocket for storing extra papers and receipts
Prayer Requests Page 

Bible Reading Tracker

Word/ Verse of the Year Worksheet

Purpose Worksheet

Vision Board 

Goals Sheet 
Reflection + Recap Page
Monthly Dashboard pages - NEW!  
Extra Thick 12 Monthly Tabbed Pages - NEW!
Two-page monthly calendar 
Notes Column -

 

(on each monthly calendar spread)

Daily planner sheets for each day of the year
Priorities section for your top three tasks of the day
Hourly schedule from 5am - 9pm 
Scripture/ Verse on each daily page
Praise & Gratitude section for daily gratitude
Physical Health/ Water Intake section
Post it area for to-do lists, grocery lists and notes
Prayer Journal area to document prayer life
Durable hard cover
Protective gold color corners
Beautiful Gold Wire-O binding
Gold foil logo detail
SHIPPING
Each Prayerful Planner is carefully wrapped in bubble wrap and placed in a cardboard shipping box to limit damage in shipping. In-stock products typically ship within 2-4 business days. Our goal for customer service is to always under-promise and over deliver. Because of the variations that can occur in production time, we cannot quote any shipping times other than what is stated above.
Packages are typically shipped via USPS. As soon as your shipment is in the hands of a postal carrier, we are no longer in control. The USPS does not provide us with different information than they provide you with the tracking number.
RETURNS/CANCELLATIONS
No cancellations, returns or exchanges can be accepted. We are also not able to accept address changes after an order is placed. If by slight chance you receive a damaged planner please contact us directly for replacement at admin@prayerfulplanner.com
We are now able to offer even bigger discounts when you purchase in bulk. Be sure to use the discount savings code below if you are buying 10 or more! (all must ship to the same shipping address)

Code 10PLANNERS - 20% (Regular Size)
Code 10PETITES - 20% (Petite Size)
Code 25PLANNERS - 25% (Regular Size)
Code 25PETITES - 25% (Petite Size)
Code 50PLANNERS - 30% (Regular Size)
Code 50PETITES - 30% (Petite Size)
Customer Reviews
Write a Review
Ask a Question
08/11/2020
Maria N.
United States
No enough space
I love the planner its cute and I love flowers but I feel it doesn't have enough space for an scripture writing ✍️ for those long scriptures and its to heavy
08/06/2020
Phillipa W.
United States
Prayerful Planner
I gifted it to a friend and she loved it!
08/05/2020
Suzie W.
United States
:-(
The planner is great. I so badly want to love it. It is just much bigger/thicker/heavier than I expected and its to hard to carry it in my everyday bag. I am hoping to bless someone with it as I have only used a week of it and it is undated. I want to incorporate God in my daily plans while deepening my relationship with him so I am contemplating getting just a weekly planner or a journal.
08/06/2020
Prayerful Planner
DR
08/05/2020
Deshunna R.
United States
OMG
I love love love this planner. I referred my friend. Thank you for your work and vision.
08/04/2020
Jennifer G.
United States
BEST Planner I've ever purchased!
I have a slight obsession with planners and all things stationary so it's safe to say I've purchased my fair share (and then some) of planners. This is by far the best one I've ever owned!!! While I don't use the hourly format for hourly planning, it allows me enough room to do my scripture writing AND still mark down the day's to-do list and appointments. I originally purchased this solely for scripture writing and prayer journaling but having it serve as my everyday planner as well is something I didn't even know I wanted or needed but turns out I did and it's great!!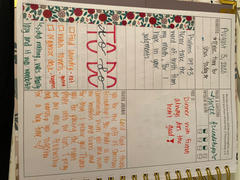 $22.00
Prayerful Planner Pen Set - Classic
$14.00
Planning Highlighter Set
$14.00
Prayerful Planner Sticky Note - Set 1
$14.00
Prayerful Planner Sticky Note - Set 2
$22.00
Prayerful Planner Pen Set - Brights
$10.00
DIGITAL Renewed Faith 21 Day Challenge
$49.00
Prayerful Planner - "UNDATED" Peony Praises
$42.00
"PETITE" Prayerful Planner - "UNDATED" Black Stripe
$42.00
"PETITE" Prayerful Planner - "UNDATED" Peony Praises
$28.00
Prayerful Journal - Pink
$28.00
Prayerful Journal - Blue
$28.00
Prayerful Journal - Gray
$28.00
Prayerful Journal - Mint
$42.00
"WEEKLY" Prayerful Planner - "UNDATED" Royal Blooms
$42.00
"WEEKLY" Prayerful Planner - "UNDATED" Farmhouse Plaid
$42.00
"WEEKLY" Prayerful Planner - "UNDATED" Classic Chintz
$42.00
"WEEKLY" Prayerful Planner - "UNDATED" Blush Knit